The Rochelle Lee Teacher Award is a professional development program for Chicago Public Schools teachers, focused on developing balanced literacy instructional practices in classrooms. Awardees advance students to literacy and a love of reading by providing classroom libraries, daily read alouds, and consistent independent reading time.
Rochelle Lee Teacher Awardees advance literacy in their classrooms by providing balanced literacy instruction. The Rochelle Lee Teacher Award Alumni Network consists of over 5,400 teachers committed to developing lifelong readers in the classroom. Teachers may apply to the Rochelle Lee Teacher Award as an Individual Awardee or as a Study Group member.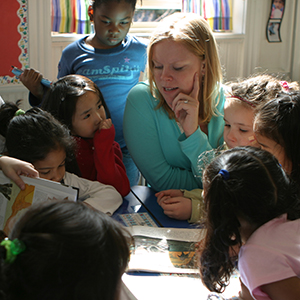 Benefits
Develop balanced literacy instructional practices
Attend the Summer Institute and tailor the experience to your individual classroom needs
Qualify for Classroom Library Grants valued at over $500
Receive ongoing support from WITS
Earn Continuing Professional Development Units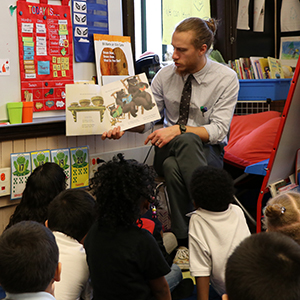 Rochelle Lee Teacher Awardees are committed to Balanced Literacy
Classroom Libraries: stocked with high-interest books, allowing students to choose what books to read and to take books home
Read Alouds: at least 20 minutes a day from engaging, relevant texts
Independent Reading: at least 20 minutes a day, enabling student choice and joy in reading
Rochelle Lee Teacher Award Study Groups are school-based professional learning communities. Study Groups develop a goal to guide their learning throughout the school year, and meet monthly to discuss instruction and push their practice to reach their goal. Study Groups allow teachers to have a school-wide impact on student literacy instruction.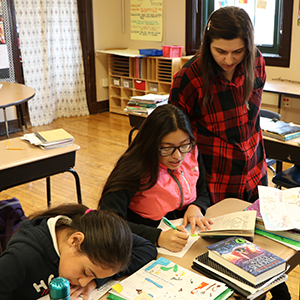 Additional Benefits
An additional $200 classroom library grant in January to purchase books selected by the teacher, upon completion (total retail value of $800).
Professional text selected by study group to support literacy focus.
Increased knowledge of professional literature and current researched based literacy best practices.
Leadership opportunities and professional development facilitation experience.
A professional collaborative forum.
Literacy coaching provided three times per year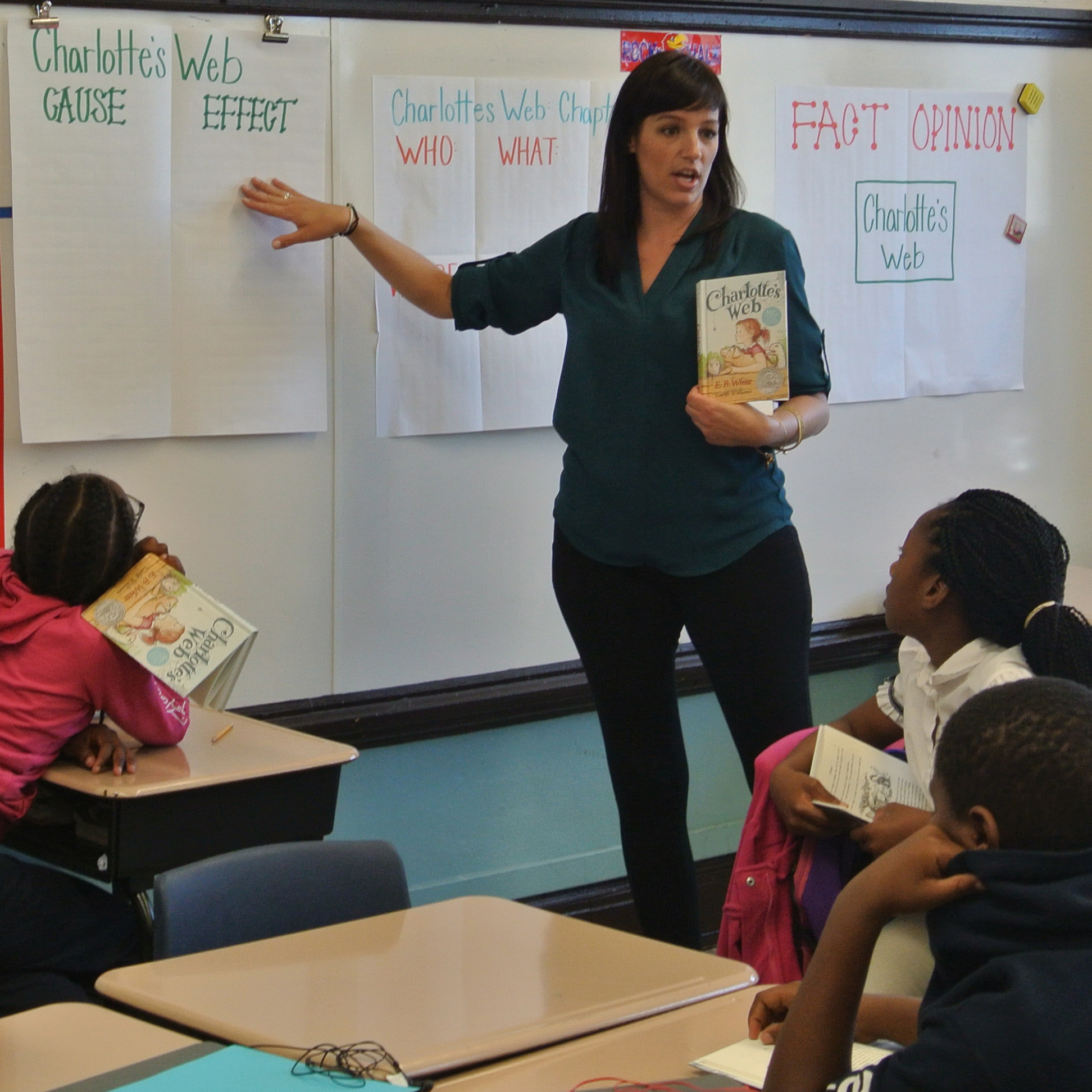 Eligibility
Four to eight teachers from the same school interested in pursuing a self-selected literacy focus
Study Group Leaders must be a returning RLTA participant.
Each Study Group should include at least one new RLTA participant.
There may be more than one Study Group at a school.
Over the summer, more than 100 Chicago Public Schools teachers come together to improve their literacy instructional practices at Rochelle Lee Teacher Award Summer Institute. Awardees receive access to over 200 hours of teacher-led professional development, and are given the opportunity to tailor their experience to gain the resources and techniques that are most applicable to the needs of their classrooms and students.


Summer Institute Highlights
The Becoming Readers Institute – a two-day workshop that explores one's self as a reader through in-depth discussions and activities around a pre-selected novel
Elective workshops that cover topics such as guided reading, using literature to teach math, incorporating technology to teach literacy, engaging middle school boys in writing workshop, and more
All workshops begin promptly on time. Whenever possible, facilities open 30 minutes prior to the start of the workshop. Please arrive at least 5 minutes prior to the start of your workshop.
Those who arrive 10 or more minutes late will not be admitted. No exceptions will be made.
Location
The
Literacenter
is located at 641 W. Lake St. in Chicago's thriving West Loop neighborhood at the intersection of Lake and Des Plaines. The building entrance is in the middle of the block on Lake St.
Parking
There is metered street parking on most surrounding streets, as well as pay lots on both Jefferson and Fulton. Please make sure you are aware of signage and any parking restrictions in the area. There is a $7 lot on Wayman and Union, directly behind Carnivale.
Public Transportation
Metra trains (Ogilvie Transportation Center and Union Station)
El trains (Clinton stop, Green and Pink lines)
Buses (routes 20 and 56)
Expressways (Lake St. and Washington St. exits, 90/94)
Zipcars (Jefferson+Lake and Clinton+Lake)
Divvy bikes (Clinton+Lake)
2018 Summer Institute Catalog
2018 Summer Institute Policies
WITS Library Materials
The Rochelle Lee Review Library has over 8,000 children's books and all current and former awardees are welcome to browse.
Booksource's Classroom Organizer - a free, online tool to catalog your classroom library books, create class check-out rosters, manage usage reports, and more.
Lending Library
The WITS Lending Library contains more than 400 sets of children and young adult books. Titles are available in whole class sets and smaller group sets. Current and former WITS educators may borrow books from our lending library.
View the Rochelle Lee Lending Library catalog and availability online via LibraryThing.
It is strongly recommended that teachers contact Daphne Robinson, daphner@witschicago.org, in advance to borrow books from the lending library for your students. This will ensure that the desired books are available, and that a specific time can be scheduled to pick up the books.
View the Application

Who Can Apply?

Pre-kindergarten through 8th grade CPS teachers
Reading specialist, special education teachers, and librarians
Content area teachers who use literature in the classroom
Third and fourth year applicants must participate in the RLTA Study Group program.
Teachers may participate in RLTA programs for a total of four years.

Application Process

Application online from November 1, 2018 to February 23, 2019.
Answer 6-8 questions about your current literacy instructional practices (Study groups answer 2 additional questions about their study group goal)
All applications are read and scored by the Selection Committee using the Application Rubric
STUDY GROUP MEMBERS

  ACERO - Brighton Park
Jessica Mark, 3rd Grade Teacher, 1st year Awardee
Erin Prater, 1st Grade Teacher, 1st year Awardee
Kelsey Schleyer, Classroom Teacher, 1st year Awardee
Emily Varichak, 2nd Grade Teacher, 2nd year Awardee, Study Group Leader
Alessandra Wilson, 4th Grade Teacher, 1st year Awardee
Lorenz Brentano Math & Science Academy Elementary School
Stephanie Arce, 1st Grade Teacher, 1st year Awardee
Blair Brodie, Kindergarten Teacher, 5th year Awardee
Constance Cosmas, 1st Grade Teacher, 1st year Awardee
Kelly Dugan, Kindergarten Teacher, 1st year Awardee
Nicole Gavin, 5th - 6th Grade Teacher, 1st year Awardee
Anne Kozisek, 1st Grade Teacher, 1st year Awardee
Daisy Lopez, 2nd Grade Teacher, 1st year Awardee
Vy Nguyen, Kindergarten - 4th Grade Teacher, 3rd year Awardee
Nicole Sandoval, Kindergarten English Language Arts Teacher, 4th year Awardee, Study Group Leader
Lea Stenson, 5th - 6th Grade Social Studies & History Teacher, 2nd year Awardee
Anna Stevens, 3rd Grade Teacher, 3rd year Awardee, Study Group Leader
Emily Thies, 5th - 8th Grade Teacher, 1st year Awardee
Jeannette Thompson, 7th - 8th Grade Reading Teacher, 6th year Awardee
Katherine Yircott, 4th Grade Reading Teacher, 3rd year Awardee
Christopher Columbus Elementary School
Kathryn Blochowiak, 1st Grade Teacher, 1st year Awardee
Dawn Casaday, 6th - 8th Grade Social Studies & History Teacher, 2nd year Awardee
Amanda Gibbs, 4th Grade Teacher, 3rd year Awardee, Study Group Leader
Joanna Vail, 5th Grade Teacher, 1st year Awardee
Edison Park Elementary School
Lorraine Ortiz, 4th Grade Reading & Science Teacher, 8th year Awardee, Study Group Leader
Taylor Robinson, 5th Grade Teacher, 1st year Awardee
Morgan Schrage, 1st - 3rd Grade Math & Reading Resource Teacher, 1st year Awardee
Nichol Somers, 5th - 8th Grade Teacher, 2nd year Awardee
Sara Taylor, 6th - 8th Grade Science Teacher, 3rd year Awardee
Eliza Chappell Elementary School
Lauren Gutierrez, 1st & 2nd Grade Teacher, 1st year Awardee
Sarah Hagen, 5th Grade Teacher, 1st year Awardee
Laurentine McKee, 4th Grade Teacher, 2nd year Awardee, Study Group Leader
Anne Merrick, Pre-Kindergarten Teacher, 4th year Awardee
Gladys Podgorny, 3rd Grade Teacher, 1st year Awardee
Margaret Taylor, Pre-Kindergarten - 8th Grade Reading Specialist, 1st year Awardee
Florence Nightingale Elementary School
Diana Del Real, 4th Grade Teacher, 1st year Awardee
Maria Martinez, 3rd Grade Teacher, 1st year Awardee
Alma Ramos, 3rd Grade Teacher, 1st year Awardee
Erika Ray, 4th Grade Teacher, 3rd year Awardee, Study Group Leader
Manuel Perez Elementary School
Sarah Bucher, 6th Grade Teacher, 3rd year Awardee, Study Group Leader
Daniel Reinholdt, 7th - 8th Grade English Language Arts Teacher, 2nd year Awardee
Eva Rodriguez, 3rd Grade Teacher, 2nd year Awardee
Luisa Santoyo, 5th Grade Teacher, 3rd year Awardee
Joann Skokal, 1st Grade Teacher, 2nd year Awardee
Nathan Hale Elementary School
Elizabeth Acosta, 2nd Grade Teacher, 1st year Awardee
Colleen Anderson, 2nd Grade Teacher, 1st year Awardee
Eileen Cahill, Kindergarten Teacher, 1st year Awardee
Elvia Hernandez, 4th - 8th Grade Reading Teacher, 3rd year Awardee, Study Group Leader
Candace Radomski, 2nd Grade Teacher, 1st year Awardee
Jaclyn Treacy, 2nd Grade Teacher, 1st year Awardee
Orozco Fine Arts & Sciences Elementary School
Melissa Gualdron, Kindergarten - 1st Grade Teacher, 1st year Awardee
Mary Ryan, Pre-Kindergarten Reading Teacher, 1st year Awardee
Lindsay Wesner, 7th Grade Reading & Social Studies Teacher, 1st year Awardee
Norma Williams, 2nd Grade Teacher, 6th year Awardee, Study Group Leader
Orville T. Bright Elementary School
Christine Chavez, 6th - 8th Grade Reading Teacher, 3rd year Awardee, Study Group Leader
Sara Katzenbach, Kindergarten - 8th Grade Art Teacher, 1st year Awardee
Angel Macklin, 3rd Grade Reading Teacher, 1st year Awardee
Savannah Zeien, 2nd Grade Teacher, 1st year Awardee
Maria Saucedo Elementary Scholastic Academy
Elizabeth Finelli, 4th Grade Reading Teacher, 4th year Awardee
Elizabeth Jameson, Kindergarten Teacher, 3rd year Awardee
Meredith Leuck, 1st Grade Teacher, 1st year Awardee
Mary Lyons, Kindergarten Teacher, 5th year Awardee, Study Group Leader
Melissa Potts, 5th Grade Reading Teacher, 4th year Awardee
Shannon Redding, 7th Grade Reading Teacher, 4th year Awardee
Sidney Sawyer Elementary School
Niamh Burke, 5th - 6th Grade Enrichment Teacher, 4th year Awardee
Abbi Eichhorn, 4th - 6th Grade English Language Arts Teacher, 1st year Awardee
Elizabeth O'Malley, 7th Grade English Language Arts Teacher, 4th year Awardee, Study Group Leader
Sameera Pelissier, 8th Grade English Language Arts Teacher, 2nd year Awardee
Cynthia Vivian, 6th Grade Social Studies & History Teacher, 6th year Awardee
STEM Magnet Academy
Comfort Agboola, 6th - 8th Grade English Language Arts Teacher, 2nd year Awardee
Lindsay Demaray, 2nd Grade Reading Teacher, 6th year Awardee
Natalie Hall, 4th Grade Social Studies & History Teacher, 5th year Awardee, Study Group Leader
Kelley Lynch, 1st Grade Teacher, 2nd year Awardee
Jami McDonald, 4th Grade Teacher, 3rd year Awardee
Kelly Shade, 6th - 8th Grade Reading Teacher, 2nd year Awardee
William G. Hibbard Elementary School
Courtney Carlstrom, Kindergarten Teacher, 3rd year Awardee
Bridget Heneghan, 6th Grade Math & Science Teacher, 2nd year Awardee
Lucia Herrera, 1st Grade Teacher, 1st year Awardee
Jessica Hodges, 6th Grade English Language Arts & Social Studies Teacher, 1st year Awardee
Stephanie Michl, 4th Grade Reading Teacher, 1st year Awardee
Alice Morado, 6th Grade English Language Arts Teacher, 3rd year Awardee, Study Group Leader
Katelyn Wilkin, 1st - 5th Grade Teacher, 1st year Awardee
INDIVIDUAL AWARDEES
Alpha Allen, 2nd Grade Teacher, Robert A Black Magnet Elementary School, 2nd year Awardee
Lauren Anderson, 4th Grade Reading Teacher, John T McCutcheon Elementary School, 1st year Awardee
Amy Betts, 1st Grade Teacher, Josefa Ortiz De Dominguez Elementary School, 1st year Awardee
Laura Brody, 4th Grade Teacher, Rosario Castellanos School, 1st year Awardee
Quetzalli Castro, 7th Grade Social Studies & History Teacher, Dr. Jorge Prieto Math & Science Academy, 2nd year Awardee
Elizabeth Chaps, 8th Grade Reading Teacher, Robert L. Grimes Elementary School, 1st year Awardee
Monica Cherry, 7th - 8th Grade Reading Teacher, John B. Drake Elementary School, 2nd year Awardee
Anna Cruz, 3rd Grade Teacher, Inter-American Elementary Magnet School, 3rd year Awardee
Julia Cygan, 5th Grade Teacher, Daniel R. Cameron Elementary School, 3rd year Awardee
Jaclyn DeDonder, 3rd Grade Teacher, Rodolfo Lozano Bilingual & International Center Elementary School, 2nd year Awardee
Melissa Dippel, 5th - 8th Grade Reading Resource Teacher, Ellen Mitchell Elementary School, 5th year Awardee
Stephanie Dombek, 1st Grade Teacher, John B. Drake Elementary School, 2nd year Awardee
Dawn Donovan, Pre-Kindergarten - 8th Grade Librarian & Media Specialist, Helge A. Haugan Elementary School, 2nd year Awardee
Kathryn Doyle, 3rd Grade Teacher, John B. Drake Elementary School, 1st year Awardee
Krista Evans, 7th Grade English Language Arts Teacher, Horace Greeley Elementary School, 1st year Awardee
Megan Fair, 1st Grade Teacher, Mary Gage Peterson Elementary School, 1st year Awardee
Josefina Ferreira, 2nd Grade Teacher, Columbia Explorers Elementary Academy, 2nd year Awardee
Jenna Frasor, 1st Grade Teacher, John Whistler Elementary School, 5th year Awardee
Jennifer Gerardi, 3rd Grade Teacher, Elizabeth H Sutherland Elementary School, 1st year Awardee
Lilia Hargis, 4th Grade English Language Arts Teacher, Moving Everest Charter School, 1st year Awardee
Colleen Harrah, 2nd - 4th Grade Teacher, Salmon P Chase Elementary School, 3rd year Awardee
Christine Hart, Classroom Teacher, Mark Twain Elementary School, 1st year Awardee
Cristina Hernandez, 2nd Grade Teacher, Columbia Explorers Elementary Academy, 1st year Awardee
Lisa Ingravallo, 1st Grade Teacher, Harriet E Sayre Elementary Language Academy, 3rd year Awardee
Angela Johnson, 5th - 6th Grade Teacher, Ashburn Community Elementary School, 1st year Awardee
Eva Kainer, 5th Grade Teacher, Jordan Elementary Community School, 4th year Awardee
Carly Kauffman, 4th Grade Teacher, Maria Saucedo Elementary Scholastic Academy, 1st year Awardee
Carolena Lescano, 3rd Grade Social Studies & History Teacher, Charles R. Darwin Elementary School, 1st year Awardee
Mallory Lewis, Kindergarten - 1st Grade Teacher, Friedrich L. Jahn Elementary of the Fine Arts, 1st year Awardee
Liliana Logli, 1st Grade Teacher, John B. Drake Elementary School, 1st year Awardee
Mary Maloney, 3rd Grade English Language Arts Teacher, Enrico Tonti Elementary School, 1st year Awardee
Lana Marchand, 2nd Grade Reading Teacher, Daniel R. Cameron Elementary School, 1st year Awardee
Samantha Marcum, 3rd Grade Teacher, Jensen Elementary Scholastic Academy, 1st year Awardee
Rosa Martinez, Kindergarten Teacher, Pablo Casals School of Excellence, 1st year Awardee
Ann McCartin, Kindergarten Teacher, Mark Twain Elementary School, 1st year Awardee
Julie McConnell, 5th Grade Teacher, Christian Ebinger Elementary School, 1st year Awardee
Elizabeth McCool, Kindergarten - 2nd Grade Reading Resource Teacher, Ferdinand Peck Elementary School, 1st year Awardee
Laura Medina, 3rd Grade Teacher, Mark Twain Elementary School, 1st year Awardee
Deanna Mendieta, Kindergarten Teacher, Daniel Boone Elementary School, 2nd year Awardee
Mary Miller, 3rd Grade Teacher, Christian Ebinger Elementary School, 1st year Awardee
Faith Mitchell, 1st Grade Teacher, Bret Harte Elementary School, 2nd year Awardee
Amy Mollenkamp, 5th Grade English Language Arts Teacher, Marquette School of Excellence, 1st year Awardee
Melanye Moore-Miller, Pre-Kindergarten Teacher, James Russell Lowell Elementary School, 2nd year Awardee
Bridget Mora, Kindergarten Teacher, Oscar F Mayer Elementary School, 1st year Awardee
Samantha Murray, Pre-Kindergarten Teacher, Foster Park Elementary School, 1st year Awardee
Hannah Nolan-Spohn, 6th - 8th Grade Teacher, Pulaski International School of Chicago, 2nd year Awardee
Ekta Panchal, 4th Grade Math Teacher, Chalmers School of Excellence, 2nd year Awardee
Amanda Paso, 3rd Grade Teacher, Rufus M. Hitch Elementary School, 2nd year Awardee
Erika Pena, 5th Grade Teacher, Emiliano Zapata Elementary Academy, 3rd year Awardee
Elisa Pena, 3rd - 5th Grade Teacher, Inter-American Elementary Magnet School, 4th year Awardee
Rogelia Peña, 5th Grade Teacher, Rachel Carson Elementary School, 3rd year Awardee
Rachel Prastitis, 3rd Grade Teacher, Ravenswood Elementary School, 1st year Awardee
Cyntria Richardson, 5th - 8th Grade Teacher, Oscar DePriest Elementary School, 5th year Awardee
Yesenia Rodriguez, Kindergarten Teacher, Franz Peter Schubert Elementary School, 1st year Awardee
Monika Roszkowski, 3rd Grade Reading Teacher, Daniel R. Cameron Elementary School, 2nd year Awardee
Gundry Rowe, Pre-Kindergarten - 8th Grade Librarian & Media Specialist, Walt Disney Magnet Elementary School, 2nd year Awardee
Olga Salas, 3rd Grade Foreign Language Teacher, Joyce Kilmer Elementary School, 2nd year Awardee
Nora Schmiedel, 1st Grade Teacher, William E B Dubois Elementary School, 2nd year Awardee
Amy Scott, Kindergarten - 2nd Grade Reading Resource Teacher, Mark Twain Elementary School, 1st year Awardee
Arielle Shanker, Pre-Kindergarten Teacher, Phillip D Armour Elementary School, 1st year Awardee
Jodi Shapiro, 1st - 5th Grade Teacher, Augustus H. Burley Elementary School, 5th year Awardee
Kutah Sillah, 3rd - 5th Grade Teacher, Luke O'Toole Elementary School, 1st year Awardee
LaTia Taylor, Kindergarten Teacher, Thomas A. Hendricks Elementary Community Academy, 1st year Awardee
Mary Ellen Trevino, 4th Grade Teacher, Mark Twain Elementary School, 1st year Awardee
Tiffany Welsh, Kindergarten Teacher, New Field Elementary School, 2nd year Awardee
Brittany Williams, 3rd Grade Teacher, Lorenz Brentano Math & Science Academy Elementary School, 4th year Awardee
Demetrice Williams, 4th Grade Teacher, Mark Twain Elementary School, 1st year Awardee
Melissa Wojciechowski, Classroom Teacher, Mark Twain Elementary School, 1st year Awardee
Hilens Zelaya, 4th Grade Reading Teacher, Marquette School of Excellence, 3rd year Awardee